1.5W Solar Sensor LED Wall Light White(Black Light: Green)
1.5W солнечный датчик Светодиодный настенный светильник
◆Модель:GS-BD-1.5Wb
◆ бренд продукта:Г.С.
◆ LED марка:Epistar
◆Motion Угол / Расстояние:120 ° / 8M
◆Аккумулятор:3.7V 1200mAh / 2200mAh литиевая батарея
◆Время освещения:14-16 часов
◆Солнечная панель:0.8W моно кристаллического кремния
◆Световая Эффективность:120LM / W
◆ССТ:4000K 6000K
◆Backlight:warm white, red, blue,green

Подробности по продукту
Установка
Application
Информация О Продукте
ТЕХНИЧЕСКИЕ ХАРАКТЕРИСТИКИ
LED марка: Epistar Светлый цвет: Cool White,Natural White
LED Тип: COB LED ССТ: 4000K 6000K
QTY СИД: 2pcs COB+3pcs SMD люмен: 180LM
Размер: 136x96x83.4mm Motion Угол / Расстояние:120 ° / 0-8M
Материал: ABS CRI :? Ra≥80
Ватт: 1.5W Рабочая температура: -20℃~55℃
Батарея:3.7V 1200mAh / 2200mAh литиевая батарея Рабочая влажность: (20~90)%RH
Время освещения:6-8 hours Температура хранения: -40℃~85℃
Солнечная панель:0.8W Polycrystalline Silicon Влажность при хранении: (10~90)%RH

ГАБАРИТНЫЕ РАЗМЕРЫ


СИЛЫ СВЕТА РАСПРЕДЕЛЕНИЕ СХЕМА
No модели: GS-BD-1.5Wb -0.5M: 79 LUX -1M:42 LUX-1.5M: 25 LUX

ХАРАКТЕРИСТИКИ
• дизайн патент, умный, красота, интегрированная концепция, создать больше удобства для пользователей.
•Unique Curved Appearance, Simplify and Beautiful. Compact Structure design, Durable. Easy install, waterproof and dust proof.
•Adopt High Quality Polycrystal Silicon Solar Panel, High Conversion Solar Photoelectricity, high energy tans-action rate, long lifespan more than 20 years.
•Use the new generation COB LED as Light Source, with the features of high brightness, low light decay, long lifespan.
•High performance lithium battery, bigger capacity brings longer lifespan.
•Scientific human induction design, wide angle detection way, makes the body movement detection in large angle and longer distance.

ПРЕИМУЩЕСТВО
Гарантия качества:Все продукты будут проходить через 5 проверок в процессе производства, сырье проверки материала,
Lights beads check,aluminum plate check,power supply check and the finished products 48 hours test.
Гарантия:Два года гарантии, разбитые фары будут заменены и новые огни будут Вам высланы
together with your next order.
Конкурсная производственная мощность:ежемесячное производство более 100000 штук ламп или других огней
цена фирмыиизготовителя:Завод прямых продаж, конкурентоспособные цены.

ПРИМЕНЕНИЕ
Широко используется в ворота, дворы, стены, и любое другое место, где с большим количеством солнечного света. Он может быть применен для освещения и украшения в ночное время.
ИНСТРУКЦИЯ ПО УСТАНОВКЕ
1. Просверлите 2 отверстия Φ6mm в запрашиваемом месте, держать 118мм расстояние между 2 отверстиями, 2 ~ 4м
height from ground.
2. Fix two expansion plugs into the hole.
3. Fix a screw to the lower expansion plug with a little spare space, insert the stripe groove
into the screw groove and fixed.
4. Straighten the whole light and fasten the screw strictly.
5. Switch on the whole system by the provided unlock pin.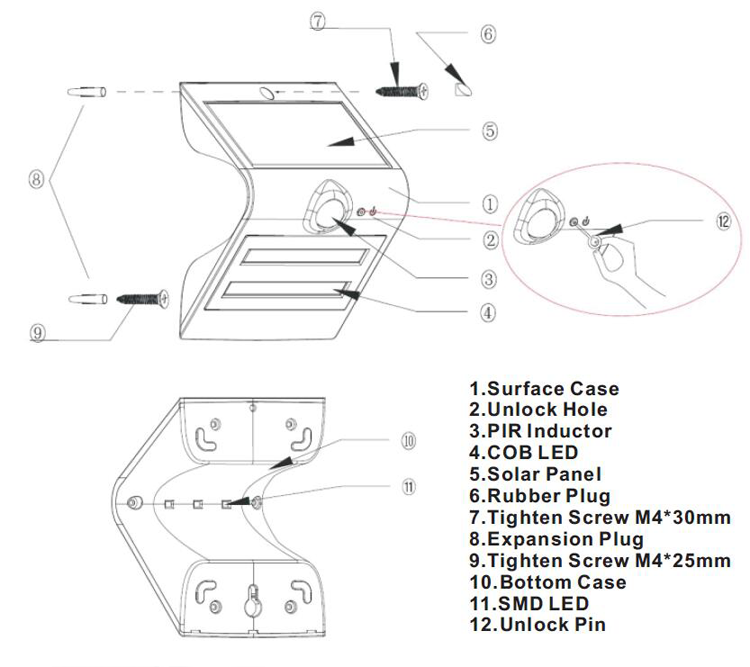 Примечания
1. Лампа загорается, когда enironmental яркость меньше 30lux.
2.The product is equipped with an internal lithium battery,please do not avoid explosion.
3.Please understand that lighting time depends on sunshine duration and weather.