5W LED智能太阳能及lnductive壁灯白
5W LED智能太阳能及lnductive壁灯
◆型号:GS-BD-5Wc
◆产品品牌:GS
◆ LED品牌:晶元光电
◆运动角度/距离:120°/ 0-8M
◆电池:3.2V / 3000MAH锂电池
◆照明时间:8小时
◆太阳能板:2.5w ^多晶硅
◆发光效率:达到120lm / W
◆CCT:4000K 6000K
产品详细信息
设备
应用
产品详情
规格
LED品牌: Epistar 浅色:冷白,自然白
LED类型: COB LED CCT: 4000K 6000K
LED数量: 2pcs COB+3pcs SMD 流明: 500LM
大小: 210x116x80mm 运动角度/距离: 120°/0-8M
材质: ABS CRI:?Ra≥80
瓦: 5W 工作温度:-40℃〜65℃
电池: 3.2V/3000mah lithium battery 工作湿度:(20〜90)%RH
照明时间:8小时储存温度:-40℃〜85℃
太阳能电池板:2.5W Polycrystalline Silicon 存储湿度:(10〜90)%RH下
尺寸

发光强度分布图
型号:GS-BD-5Wc -0.5M:278 LUX - 1M:142 LUX-1.5M:125 LUX
特性
•专利设计,聪明,美丽,集成概念,为用户创造更多的便利。
•Unique Curved Appearance, Simplify and Beautiful. Compact Structure design, Durable. Easy install, waterproof and dust proof.
•Adopt High Quality Polycrystal Silicon Solar Panel, High Conversion Solar Photoelectricity, high energy tans-action rate, long lifespan more than 20 years.
•Use the new generation COB LED as Light Source, with the features of high brightness, low light decay, long lifespan.
•High performance lithium battery, bigger capacity brings longer lifespan.
•Scientific human induction design, wide angle detection way, makes the body movement detection in large angle and longer distance.
优点
质量保证:所有的产品会经过5检查在生产过程中,原料的检查,
灯珠检查,铝板检查,供电检查和成品48小时测试。
保证:两年保修,破灯将被取代,新的灯光将被发送到你
连同您的下一个订单。
有竞争力的生产能力:月产量超过10万个灯泡或其他光源
设备厂价格:厂家直销,价格优惠。
应用

在门,庭院,围墙广泛使用,以及其他任何地方有充足的阳光。 它可以在夜间被应用到照明和装饰。
证书
INSTALLATION INSTRUCTIONS
1.钻2个孔Φ6mm的在要求的地方,保持2个孔之间118毫米距离,2〜4米
height from ground.
2. Fix two expansion plugs into the hole.
3. Fix a screw to the lower expansion plug with a little spare space, insert the stripe groove
into the screw groove and fixed.
4. Straighten the whole light and fasten the screw strictly.
5. Switch on the whole system by the provided unlock pin.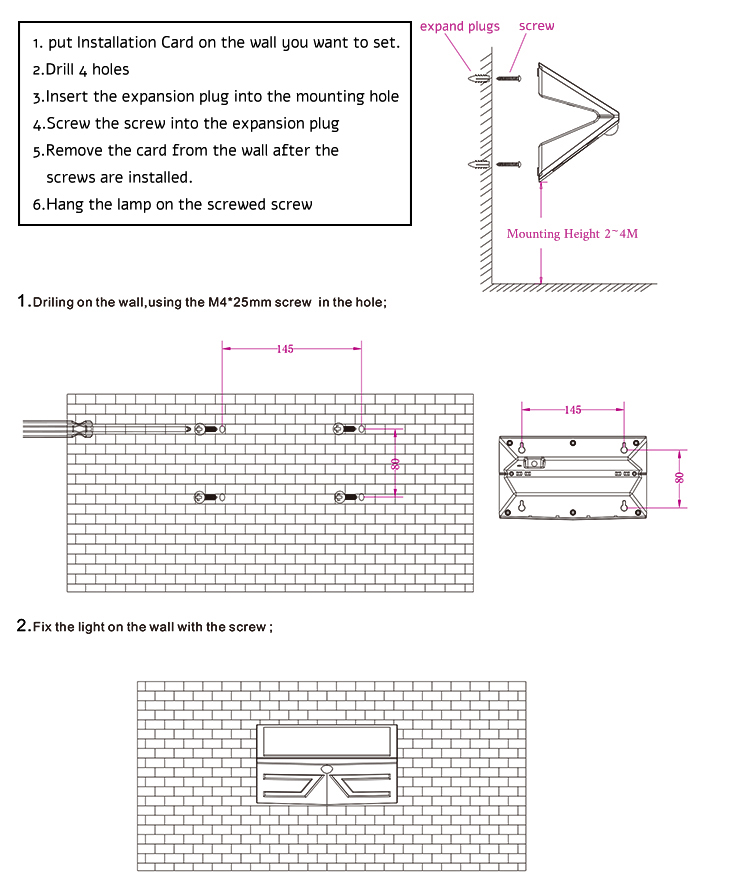 笔记
No light when no motion for the mian-light.Press the button one time,the main light will burn when people iscoming,last for 15s,the back lights will turn into blue light,last for 1min .

该产品配备了内置锂电池,请不要,以免发生爆炸。

请您理解,照明时间取决于日照时间和天气。

按下按钮四次,主灯将当人们即将灯willchange光为蓝色,红色和绿色之间,最后燃烧,持续15sThe回1min.Press超过3秒的按钮,光关闭。